Cycle Haven, Lincoln, England, Harley & Custom
COVID-19 is not preventing us to take & process your Mail Ordered requirements... Thank you... Nic&Ange
WE ARE NOT PERMANTLY CLOSED ( As Google indicates ) we are relocating, call 07442 496 186

Business as usual ... just on NEW Phone numbers ... for parts availability and ordering.
Or if no response or engaged .... 07484 606 664
For Over Night Delivery from our extensive stock ( accumulated since trading from 1982 ) enter the description into the search ( magnifier glass icon above ) or browse through the menu down the left side column or below....checkout option via PayPal INTERNATIONAL ordering information below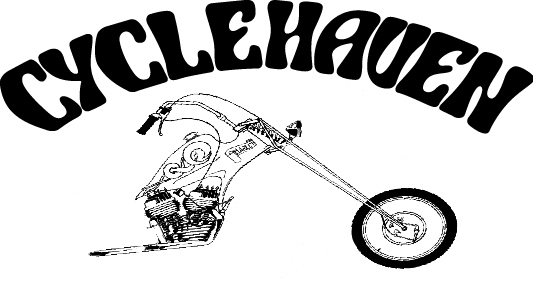 To Order in.. your selected preference from any of our part suppliers,
Go in via the menu bar above ....by selecting.... British - Harley or Japanese option,

email us the part numbers and catalog name, for a U.K. price quote to [email protected]

Then by request if the parts are required we shall send a PayPal invoice..... or call 07442 496 186 for card payments.
Ideally...i f you can pinpoint your exact item required ( by sending us the part number ) by using the on-line catalogs linked on this website. We will also cross reference from any Harley OEM part numbers to aftermarket suppliers for you, if you require further assistance..... just give me a call.
MAINLAND U.K. deliveries will be via Parcel Force, up to 30kg & 1 metres in length... updated.. 7/ 20
INTERNATIONAL ORDERS Will require your collection via companies such as https://www.parcel2go.com/quick-quote
After placing all your required parts into the basket ... select " £0.00 Collection via your own courier " in the drop down menu under.... " Delivery type " and pay for your parts. We will pack them and message you their boxed dimensions and weight for your entry into your chosen courier to collect.
Remember to send us the shipping label supplied by your chosen courier, to be placed on your packed order placed with us ready for their collection.